After the box-office success of 'Heyy Babyy', all eyes are now on Sajid Nadiadwala's next movie 'Kambakht Ishq', featuring Bollywood's latest superstar Akshay Kumar.
Akshay Kumar has been touted as the 'Overseas King' by trade pundits for dishing out four consecutive hits,'Namaste London', 'Heyy babyy', 'Mujhse Shaadi Karoge' and Priyadarshan's 'Bhool Bhoolaiya'.
Sabir Khan, who assisted David Dhawan in 'Mujhse Shaadi Karoge' will be directing the new film, a press release from Nadiadwala said.
The hunt for the heroine to be paired opposite Akshay is on.
Buyers are eager to lap up any Akshay film and top distributors and corporate honchos have
already started bidding for rights to distribute 'Kambakth Ishq' even before the shooting has begun.

Akshay Kumar is undoubtedly turning out to be the biggest star in the industry. Trade Pundits acknowledge that he is a One Man Industry on his own.
"Akshay is running his own parallel industry. His box office record is impeccable. You cannot even call him the numero uno because he is far beyond that now in the box office race," opine the trade experts. He is Bollywood's HIT MACHINE – From a Superstar to a Megastar!
Akshay Kumar is not competing against Shahrukh or BIG B anymore. In fact, trade pundits are comparing him with Megastar Rajnikant post the rocking success of Bhool Bhulaiyaa. Rajnikant made waves by being the highest paid actor in Asia. The South Star charged a whopping 16 crores per film, post the mega success of Sivaji!
Breaking news in the trade is that Akshay Kumar will be charging 22 crore per film. To top it up, his latest film with Venus has his fees touching a staggering 41 crores, hence making him the highest paid actor in the industry today.
Akshay is a one man industry who has held his own in spite of the Khans, just like Rajnikanth did down south. His 'Bhool Bhulaiya' is actually as big a hit as Rajnikanth's 'Chandramukhi', from which it was inspired while 'Welcome' is turning out to be a blockbuster as well.


After foray into the world of sports, Bollywood superstar Shah Rukh Khan has now set his sights on making the most expensive film in India for a budget of USD 25 million.
The yet to be titled film, is expected to be made by his production house Red Chillies, SRK told entertainment magazine "Variety" while he was in Berlin last week to attend a film festival.
"We are dedicating the next eight or nine months to taking the best technicians from around the world and asking them to help us make the best VFX film India has ever made," the King Khan said.
"It will be madcap, over the top. I want it to be as beautiful as 'Spider-Man' in terms of effects," SRK said.
The story of the film is reportedly about children who wish for bad things but get a reality check when they start coming true.
Director Anubhav Sinha , who has helmed films like Cash and Dus , is expected to direct the film.
SRK said he was also in talks with distribution house Eros International and Hollywood special effects guru Charles Darby to participate in the project.
Darby has worked on special
effects laden Hollywood films like `The Matrix' and `Minority Report' and recently launched a studio for special effects in Mumbai.
SRK starred in two of the biggest hits last year Chak De India and Om Shanti Om .

Notwithstanding an enviable fan following abroad, Bollywood superstar Shah Rukh Khan feels that "there is no place" for him in Hollywood or European cinema and says that he was more keen on taking the Indian cinema to the global audience.
"There is no place for me in the Hollywood or in the European cinema. I would like to continue to work in India and to take the Indian cinema to the outside world," SRK, who was given a rapturous reception in Berlin as he made his debut at the Berlin Film Festival to attend the German premiere of his latest blockbuster Om Shanti Om , said at a press conference.
Defending Bollywood films, perceived as loud and overly melodramatic by many western audiences, the 42-year-old actor said he wants to help remove some misconceptions about Indian films in the west. "I may be someone to bind Europe and India through films."
"We do express ourselves a little loudly. We wanted people to know that our movies are like this and we're very proud of it," he said.
He also warned against the dangers of "films being eaten up by technology", and suggested that the more technologically advanced western film industry could learn a thing or two about storytelling from Bollywood.
"I love 'Spiderman', 'Superman' ... but sometimes there is nothing beyond the special effects. Maybe our stories would be interesting to take on."
The King Khan, who was clearly astounded at being received by hysterical fans in Berlin, said he had been working in the Indian cinema for the last 17 years and "it is the first time that I feel like a big movie star."
Earlier, a capacity crowd of over 500, predominantly European film fans, danced in ecstasy, clapping and waving their hands as some chartbusters from the film were played in one of the main screening centres of the ongoing 58th Berlinale.
As SRK appeared on the stage, the audience gave him a standing ovation lasting several minutes, amidst loud cheers and shouts of "Shah Rukh".
SRK urged the European film industry to avail the opportunities for co-production, marketing of technologies and other possibilities offered by India, which is one of world's largest and rapidly expanding film markets.
At the same time, the Indian cinema, which has not changed very much during the last four decades, should look at the changes taking place around the world, he said.
The superstar said he was humbled and touched by the interest in his films and in the Indian cinema shown by film enthusiasts in Germany.
Deepika Padukone was reportedly shuttling between Ranbir Kapoor and cricketer Yuvraj Singh just some time back and now is being linked with Nihar Pandya, her ex-flame, once again.
The duo had been spotted together several times of late but one can't say if the love bug bit them again.
According to some Deepika is trying to find her future with Ranbir only especially after the Yuvraj fiasco.
Just a few days back Deepika was shooting a Pepsi commercial with superstar Shah Rukh Khan and Ranbir when Nihar arrived on the sets of the ad film, she preferred the Saawariya star over Nihar, whom she did not welcome.
Though Deepika did not exactly ignore him, but he could sense that her attention was clearly divided.
There was an awkward moment between the two men, who did not exchange even a single word.
So, Nihar left the sets soon enough leaving Deepika giggling with the Kapoor lad once again.
Onlookers on sets reveal that they enjoyed the shoot and
loved spending quality time with each other. That's not all, the couple were also spotted chatting and exchanging sweet nothings at a suburban coffee shop in Mumbai.
So is the Om Shanti Om star really proving to be a pretty indecisiveness girl at this moment or is she just enjoying all the attention?

Bollywood superstar Shah Rukh Khan has reportedly refused to do an item number in Sushmita Sen 's upcoming home production.
Though the two Scorpios became quite good friends during and after Main Hoon Na , things were not quite the same when Sushmita refused SRK to jive with him in his multi-starrer song "Deewangi" in Om Shanti Om due to date problems.
Like a true Scorpio, SRK was not the one who would forget the refusal and was perhaps waiting only for the right time to strike back.
The King Khan usually does not show his back to anyone who approaches him for doing any cameo and his item numbers in Kaal and Heyy Babyy were hits.
And now SRK is going another item number in Rakesh Roshan 's Krazy 4 . SRK's little appearance in a film proves to be a miracle as his magic is capable of dragging audience to the theatre.
But when Sushmita requested SRK to do an item number in her upcoming home production he straightway rejected her quite likely because he refused in the first place.
Poor Sushmita who is working hard for her first home production Jhansi Ki Rani
seems to have lost her chance of having SRK's item number in her film.
What next? Will the Scorpio in Sushmita strike back? Wait and watch.
top of it are superb performances by the starcast helmed by the endearing Shah Rukh Khan
who does the most corny things with such conviction that you end up liking them. Be it dressing like Rajnikant in the cowboy 'Murugan' avatar and fighting with a fluffy tiger. Or rescuing his ladylove from a raging fire and getting scorched above his butt.
To entertain the audiences, SRK doesn't mind making himself the butt of a joke. And Farah Khan doesn't mind going over the top if that brings a smile to your face. Yes, that is the intention of OSO – to entertain. And it succeeds in it in flying colours.
That the film is a hearty tribute to the cinema of 1970s becomes clear from its opening scene – Rishi Kapoor , all dressed in silver, dances to the song "Om Shanti Om" from Subhash Ghai's film Karz . In the crowd is Om Prakash Makhija (SRK) one of the junior artists shooting for the song along with his sidekick Pappu Master ( Shreyas Talpade ).
Om has dreams in his eyes – dreams to become a superstar someday. And he is in love with popular actress Shantipriya ( Deepika Padukone ), to whose poster he often talks his heart out.
At home, Om's mother ( Kiron Kher ) is sure her son's dreams would come true one day. Well, they almost do.
Our smitten hero gets introduced to his ladylove through a series of remarkable incidences. Om's love story seems headed in the right direction, but then, comes a revelation. There is another man in Shantipriya's life and his intentions are not noble.
Without giving the story away, it can be safely said that Om and Shantipriya's love story remains incomplete. It takes second birth and a new life for Om to finally settle the score with the man who took away his love.
'Om Shanti Om' is packed with one slammer of a scene after another throughout its running time. With its sheer joie de vivre, the film engages you and allows you no spare thought to pick plot-holes from a rational point of view.
The first half of the film is simply superb. The tongue-in-cheek spoofs on the superstars of the 70s – be it Manoj Kumar, Dev Anand or Dharmendra – are extremely funny. The chemistry between Om and his friend (Shreyas) has many charming moments. And it rends your heart to see how Om Makhija's dreams are shattered and yet how he proves to be a true lover till his tragic end.
Lekin film abhi baaki hai, mere dost.
The second half doesn't see much revival of the love story, but it does pack in a good dose of suspense and drama as the reincarnated Om Kapoor recalls his previous life in flashes and sets out to complete the story left incomplete in previous life.
In OSO, Shah Rukh Khan proves that he isn't a superstar for nothing. His acting in the movie borders on a deliberate, filmi histrionic, in keeping with his character. SRK also proves his flair for comedy in many scenes – such as the cowboy Murugan sequence, or the opening song.
Deepika Padukone is very photogenic and she emotes well too. She has all the qualities of a superstar in the making.
In the side-roles, Shreyas Talpade and Kiron Kher are superb. But what is surprising is Arjun Rampal 's brilliant portrayal of a cunning producer. Rampal is terrific in the film's second half, when the ugly past catches up with his character.
Pakistani actor Javed Sheikh, as the reincarnated SRK's father Rajesh Kapoor, is commendable. His performance is several notches better than what we saw of him in Namastey London .
Music by Vishal-Shekhar is another strong point of OSO. "Aankhon Mein Teri" plucks notes at your heartstrings. "Om Shanti Om" may have an average melody but the thirty celebrities in the song keep you glued to the screen.
Farah Khan has a very unique style of filmmaking. She follows no set formula and is not afraid to try anything and everything wacky just for the sole purpose of providing entertainment. She makes SRK dress up as a superman, as a dacoit, and as a gaudy cowboy. And she presents Akshay Kumar and Abhishek Bachchan in little cameos that will have you in splits.
Apart from the content, OSO is also a technically sound film. The cinematographer doesn't try too many stylistic shot compositions but yet captures the gist of the story. The editing by Shirish Kunder is slick and tight. And the special effects – transposing Deepika Padukone with the likes of Sunil Dutt, Rajesh Khanna and Jitendra – are of super quality.
To put the curtains down, I wish to say that OSO delivers what it promises. It makes you laugh and makes you cry.
I came out of the theatre with a broad smile on my face. And 'Om Shanti Om' sounded like the perfect mantra of this Diwali for me.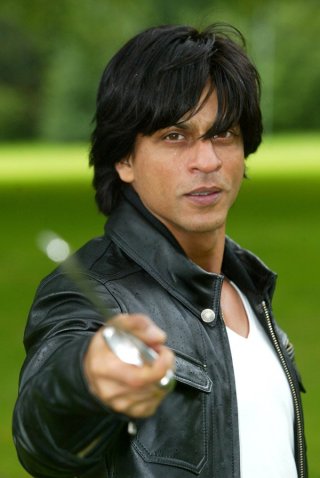 Director Shirish Kunder's next film will be a comedy titled Tees Maar Khan . Shirish Kunder has yet to start his next film after the debacle of his directorial debut Jaaneman in 2006. Now, Shirish will be making films under his home production. The director has already announced his big-budget project Joker , which will have Akshay Kumar in the lead role. But before this film, Shirish is keen to start another project, 'Tees Maar Khan', a solo hero film. Shirish is reportedly working on the film's script, which will be completed in the coming days. He hasn't yet finalized the star cast but sources from the industry suggest that his 'Jaaneman' stars Akshay and Salman Khan are top on his wishlist for 'Tees Maar Khan'. The film will go on the floors in the second half of this year. Besides, 'Tees Maar Khan' and 'Joker', Shirish has also planned a historical drama called 'Prince Of India'.
Akshay Kumar is surely is fast emerging as a strong contender to Shah Rukh Khan and Salman Khan for the 'overseas heartthrobs' tag.
After the strong showing in the overseas circuit of Garam Masala , Deewane Hue Pagal and Dosti - Friends Forever , all of which starred Akshay, his 'intense lover' act in his latest film Humko Deewana Kar Gaye has also stormed the box office in the United Kingdom, thus underlining the versatile actor's emergence as the "new star on the overseas circuit".
The film, which released all over the world on April 14, opened to record theatre collections. In fact, the opening day collections of the film, which stars Katrina Kaif in the female lead and the sultry Bipasha Basu in a supporting role, in the United Kingdom were a staggering 50,000 UK Pounds (Rs 35 Lakh) from just 38 cinema screens.
Besides the stupendous opening day collections, the film also earned 16,000 UK Pounds (Rs 11 lakh) from paid preview shows held a day prior to its theatrical release.
The total collections earned by Humko Deewana Kar Gaye from its previews and theatre earnings during the 4-day Easter weekend were 219,981 UK Pounds (Rs 1.7 crore) from 38 cinema screens, placing it at the tenth position in the UK top Ten, alongside Hollywood films like 'Ice Age: The Meltdown', 'Scary Movie
4', 'Inside Man' and 'The Shaggy Dog'.
What is more, the film had the third highest per-screen average of 4,603 UK Pounds among the films figuring in the UK Top ten, behind only 'Ice Age: The Meltdown' and 'Scary Movie 4'.
In terms of its earnings during the opening weekend, the film ranks above Hollywood films like 'Hostel', 'The Pink Panther', 'Yours, Mine and Ours', The Squid And The Whale' and 'The Dark Momentum'. Trade sources say the opening taken by Humko Deewana Kar Gaye is the highest ever for a solo Akshay -starrer in the UK. In fact, the opening of the film was even bigger than that of Andaaz , Akshay's previous film with director Raj Kanwar .
Recent years have seen Akshay emerge as the new star on the overseas circuit. Films starring the actor like 'Garam Masala', 'Deewane Hue Pagal' and, more recently, 'Dosti' have proved to be hits in the United Kingdom.