Mesut Özil (German pronunciation: [ˈmeːzut ˈøːzil]; born 15 October 1988) is a Germanfootballer who plays for Spanish La Liga club Real Madrid and for the German national team. Özil has been a youth national team member since 2006, when he debuted for first professional league season and a member of the German national team since 2009. He gained international attention during the 2010 FIFA World Cup and was nominated for the Golden Ball Award which is awarded to the tournament's best player. Following his breakout performance at the World Cup, he was transferred to Real Madrid in August 2010.
His nicknames include "der neue Diego" – the new Diego – in reference to the Brazilian playmaker whose role he inherited at Werder Bremen, "German Messi" and "German Zidane" although he is more happy, comfortable and flattered by the latter. Özil is a third-generation Turkish-German, who, in reference to his game, concludes, "My technique and feeling for the ball is the Turkish side to my game. The discipline, attitude and always-give-your-all is the German part."
Contents
* 1 Club career
o 1.1 Gelsenkirchen and Rot-Weiss Essen
o 1.2 Schalke 04
o 1.3 Werder Bremen
o 1.4 Real Madrid
* 2 International career
o 2.1 2010 World Cup
o 2.2 International goals
* 3 Career statistics
* 4 Honours
o 4.1 Club
o 4.2 Country
* 5 Style of play
* 6 Personal life
* 7 References
* 8 External links
Club career
Gelsenkirchen and Rot-Weiss Essen
Özil began his youth career playing for various clubs in Gelsenkirchen and then played five years for Rot-Weiss Essen.
Schalke 04
In 2005, he moved to the youth department of FC Schalke 04. He was a midfielder and wore 11 as his squad number, after starting as play-maker and central attacking midfielder in the place of the suspended Lincoln in Ligapokal matches against Bayer Leverkusen and Bayern Munich for Schalke. On making the first team there, he was described as 'the next big thing', but he eventually fell out with club management and moved on to Werder Bremen in January 2008.
Werder Bremen
On 31 January 2008, he moved to Werder Bremen for a reported fee of €4.3 million, signing a contract with the German club until 30 June 2011. Fresh off his fallout at Schalke 04 he stepped into the shoes of Brazilian playmaker Diego to fire the northern club to the 2009 DFB-Pokal with the winning goal in a 1–0 victory over Bayer Leverkusen in Berlin. He also excelled in Europe where he led Werder Bremen to the final of the last ever UEFA Cup, losing out to Shakhtar Donetsk. Although Bremen failed to get going in their 2008–09 Bundesliga season, eventually finishing in a disappointing 10th, Özil managed to make a significant impact in most games and came away with a respectable three goals and 15 assists that highlighted his attacking credentials. In his second season with the club, they ended third and Özil was instrumental with 16 assists.
Real Madrid
Due to his performances in the 2010 FIFA World Cup, he ensured his place among Europe's top young talents, On 17 August 2010 Werder Bremen announced that they had reached an agreement with Real Madrid. The transfer fee is believed to be in the region of €15mil. He made his debut on 22 August in a friendly match against Hércules, which Real Madrid won 3–1.
He then made his La Liga debut for Real Madrid as a substitute for Ángel di María in the 62nd minute against Mallorca, which Real Madrid drew 0–0. Özil made his season debut in Champions League on 15 September. He got his first assist with Real Madrid in the 74th minute against Ajax after he crossed in the ball, resulting in a Higuaín goal. Özil's performances for Real Madrid have been praised by media, fans and players.
He walked off the pitch as a second half substitute to standing ovations in his first two games as a starter at the Santiago Bernabéu. His first goal came in a league match against Deportivo La Coruña on 3 October 2010, in a 6–1 victory. Özil's first Champions League goal with Real came in the 14th minute against Milan on 19 October 2010. He scored two other goals in the league matches, one against Racing de Santander, and another from a wonderfully struck free kick which the Atlético Madrid keeper David de Gea could do nothing about.
International career
In September 2006, Özil was called up for the Germany U-17 team. Özil has been a member of the German U-21 team since 2007. On 29 June 2009, Özil was the catalyst in a 4–0 win over England during the U-21 European Championship final.
He mde his debut for the Germany national football team during a friendly match against Norway on 11 February 2009. He scored his first goal for the senior team in his third appearance, another friendly, against South Africa on 5 September in Leverkusen.
Mesut Özil playing for Germany
2010 World Cup
He was selected for the Germany national squad for the 2010 FIFA World Cup, starting in the team's first four games. He scored a left-footed half-volley from the edge of the 18 yard box against Ghana in the final group game, ensuring Germany progressed to the second round as group winners. On 27 June 2010, he played in Germany's win over England in the last 16 match, setting up the fourth goal with a cross to Thomas Müller as Germany triumphed 4–1. During the quarter-final match against Argentina he assisted the second goal for Miroslav Klose with a low cross to make it 4-0 to the Germans. Germany went on to win the match 4–0. FIFA announced him as one of the ten nominations for the Golden Ball.
International goals
#↓ Date↓ Venue↓ Opponent↓ Score↓ Result↓ Competition↓
1 5 September 2009 BayArena, Leverkusen, Germany South Africa 2–0 2–0 Friendly
2 23 June 2010 Soccer City, Johannesburg, South Africa Ghana 1–0 1–0 2010 FIFA World Cup
3 8 October 2010 Olympic Stadium, Berlin, Germany Turkey 2–0 3–0 UEFA Euro 2012 qualifying
Mesut Özil
Mesut Özil
Mesut Özil
Mesut Özil
Mesut Özil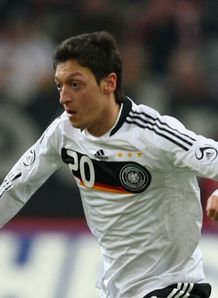 Mesut Özil
Mesut Özil
Mesut Özil
Mesut Özil
Mesut Özil
Mesut Özil