Omar Bravo Tordecillas (born March 4, 1980 in Los Mochis, Sinaloa) is a Mexican international footballer who is currently on loan at Guadalajara from Kansas City Wizards.[1] He will join the Kansas City Wizards at the start of next season.
Contents
[hide]
* 1 Club career
o 1.1 Club Deportivo Guadalajara
o 1.2 Deportivo de La Coruña
* 2 International career
* 3 Statistics
o 3.1 International goals
o 3.2 International
* 4 Honors
o 4.1 Mexico national team
o 4.2 Individual
* 5 References
* 6 External links
[edit] Club career
[edit] Club Deportivo Guadalajara
He was trained at the Club Deportivo Guadalajara youth system, and made his debut with the senior team on August 20, 2001 against U.A.N.L. in a 0–0 draw. After playing as a substitute in his first three seasons, Bravo became a regular starter for the team during the 2002 Apertura, playing 15 games and scoring 6 goals.
In 2006, Bravo participated in a successful season for Club Deportivo Guadalajara helping the team to win the Apertura championship title, as well as achieving first place for the top goal scorer in the Mexican second Division and registering 11 goals for the tournament.
In 2007, Bravo displayed his lucky form at the Clausura division, winning the golden boot for most goals in the league with 11 goals in 17 matches. Club Deportivo Guadalajara becoming champion in the Apertura 2006, was eligible to participate in the Champions Cup. Bravo, scored in his first appearance in the CONCACAF Champions' Cup against W Connection as well as in the first match of the semifinals against DC United. Passing to the final, On April 8, 2007, he helped Club Deportivo Guadalajara to a 2–2 draw against CF Pachuca at the CONCACAF Champions' Cup Final, scoring 2 Goals in the first match.
Omar Bravo scored his 100th goal on April 26, 2008 after 7 years in a 4–0 victory over Puebla F.C. in the Estadio Jalsico, Bravo is the 2nd player in Club Deportivo Guadalajara history to reach 100 goals, only behind Salvador Reyes who has 122 goals. He played his last match of his first period in Club Deportivo Guadalajara with 101 goals, scoring his last goal against Club de Futbol Monterrey in the Mexican First Division quarter-finals of the play-offs which they tied 4–4, losing 8–5 on aggregate.
[edit] Deportivo de La Coruña
On May 22, 2008, Deportivo de La Coruña announced an agreement between the club and Omar Bravo for the next three years. Omar Bravo left Guadalajara as a free agent. Bravo became the second Mexican in Deportivo's squad at that time, after Andrés Guardado. Omar Bravo made his debut on August 31, 2008 in a 2–1 victory over Real Madrid. On December 8, 2008 he scored his first league goal against Málaga in a 2–0 victory. With only nine league appearances (only two of them as a starter), it was evident that his stint at the Spanish club wasn't as successful as expected, and on March 5, 2009 he was loaned out to Mexican side Tigres U.A.N.L. for the remainder of the Clausura 2009 season. After Tigres U.A.N.L he was loaned to Chivas, his home team. He then resumed his history with the club, adding to his 108 goals for Chivas.
[edit] International career
Bravo has played for several Mexican youth national teams and several amateur tournaments including the 2004 Summer Olympics in Athens, Greece. He has 71 caps and has scored 15 goals for the senior Mexican National Team.
Bravo first appeared in the senior national team when veteran forward Jesús Arellano was unable to play in a friendly match due to injury. Since then, Bravo became one of the top contenders for Mexico's offensive lineup on the squad.
On June 11, 2006, playing at the 2006 FIFA World Cup in Germany, Bravo scored two goals on Mexico's 3–1 victory over Iran and was named the Man of the Match.[1]. Two matches later, he failed to score a penalty kick against Portugal, which gave Mexico a 2–1 loss. Bravo didn't play in the game against Argentina.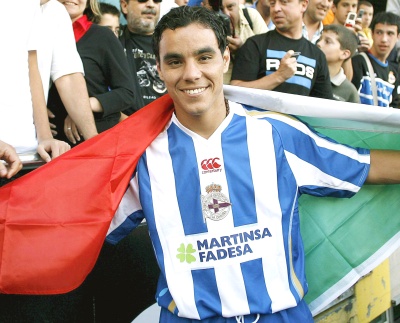 omar bravo
omar bravo
omar bravo
omar bravo
omar bravo
omar bravo
omar bravo
omar bravo