Eren Derdiyok (born 12 June 1988 in Basel) is a Swiss footballer who plays as a striker for Bayer Leverkusen in the German Bundesliga.
Content
* 1 Club career
* 2 International career
o 2.1 International goals
+ 2.1.1 U-21 Team
+ 2.1.2 National Team
* 3 Career performance
* 4 Personal
* 5 Honours
* 6 References
* 7 External links
Club career
At 6' 3" Derdiyok is a powerful striker who can also fill in a centre-back if needed. He started his career with Swiss minnows BSC Old Boys at the beginning of the 2005–06 season in which scored 10 goals in just 18 appearances. FC Basel noticed his goal scoring instinct and snapped him up in 2006 at the age of 18. In the 2006–07 season, Derdiyok was used mainly as a substitute, playing only one full game, and averaging a total of 220 play minutes that season. For Derdiyok, the 2007–08 season proved to be a lot more fruitful and he received regular playing time. In FC Basel's main squad, Derdiyok scored his first hat trick playing away against FC Thun on 2 March 2008. On 6 April 2008 he won the Swisscom Cup, his first title. On 29 June 2008 it was reported by the English media that he was in talks with Newcastle United representatives. However, the transfer window passed without any transfer taking place. On 27 August 2008 he scored the winning goal in FC Basel's 2–1 win over Vitória S.C. at St. Jakob-Park which meant that Basel qualified for the UEFA Champions League. Also, in the UEFA Champions League, Derdiyok helped give Basel its first point by scoring the only goal against FC Barcelona at Camp Nou to tie the game in the 82nd min at 1–1. with
Following another solid season in the Swiss top flight and a string of eye-catching performances for the national team, Bayer Leverkusen[3] secured Derdiyok's signature on 28 May 2009 committing him to a four year contract until 30 June 2013. Derdiyok made his debut in the DFB Cup game on the 31st of July. In that game against SV Babelsberg 03, Derdiyok scored the game winning goal in the 67th minute to make the score 1–0.
International career
Derdiyok made his international debut for Switzerland on 6 February 2008, as a second-half substitute against England at Wembley Stadium in London. He scored with his first touch of the ball to equalise, but they eventually lost 2–1. He was named as part of the Switzerland squad to play at UEFA Euro 2008 and was the youngest player at the tournament at 19 years old. He was also in the Switzerland 23-man squad for the 2010 World Cup where he played twice.
International goals
U-21 Team
# Date Venue Opponent Score Result Competition
1. 22 August 2007 Kortrijk, Belgium Belgium 0–2 1–2 Friendly
2. 8 September 2007 Wohlen, Switzerland Macedonia 1–0 1–1 Qualifier
3. 12 October 2007 Fredrikstad, Norway Norway 2–1 2–1 Qualifier
4. 16 October 2007 Tallinn, Estonia Estonia 0–1 0–4 Qualifier
5. 16 October 2007 Tallinn, Estonia Estonia 0–2 0–4 Qualifier
6. 17 November 2007 Delemont, Switzerland Estonia 1–0 5–0 Qualifier
7. 17 November 2007 Delemont, Switzerland Estonia 4–0 5–0 Qualifier
8. 5 June 2009 Wil, Switzerland Armenia 1–0 2–1 Qualifier
National Team
# Date Venue Opponent Score Result Competition
1. 6 February 2008 London, England England 1–1 2–1 Friendly
2. 9 September 2009 Riga, Latvia Latvia 2–2 2–2 2010 FIFA World Cup qualification
Career performance
Eren Derdiyok
Eren Derdiyok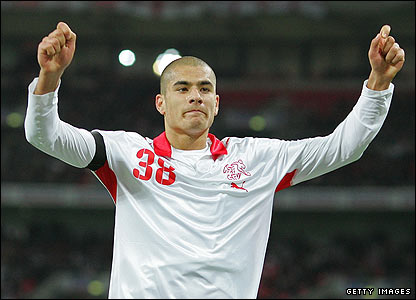 Eren Derdiyok
Eren Derdiyok
Eren Derdiyok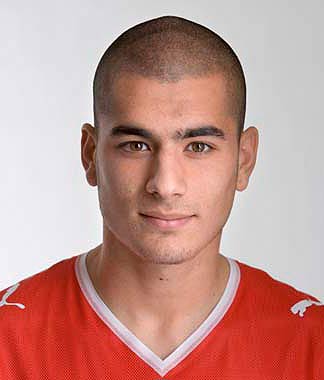 Eren Derdiyok
Eren Derdiyok
Eren Derdiyok
Eren Derdiyok
Eren Derdiyok
Eren Derdiyok