Fernando José Torres Sanz (Spanish pronunciation: [ferˈnando ˈtores]; born 20 March 1984), nicknamed El Niño (The Kid in Spanish), is a Spanish footballer who plays for Liverpool and the Spain national team as a striker.
Torres started his career with Atlético Madrid, progressing through their youth system. He made his first team debut in 2001 and finished his career with the club having scored 75 goals in 174 La Liga appearances. Prior to his La Liga debut, Torres played two seasons in the Segunda División, making 40 appearances and scoring seven goals. He joined Premier League club Liverpool in 2007 after signing for a club record transfer fee. He marked his first season at Anfield by being Liverpool's first player, since Robbie Fowler in 1995–96, to score more than 20 league goals in a season. Torres became the fastest player in Liverpool history to score 50 league goals after scoring against Aston Villa in December 2009.
He is also a Spanish international and made his debut for the country against Portugal in 2003. He has since participated in four major tournaments, UEFA Euro 2004, the 2006 FIFA World Cup, UEFA Euro 2008 and the 2010 FIFA World Cup. He did not score a goal at UEFA Euro 2004, but he scored three at the 2006 FIFA World Cup. Torres scored twice at UEFA Euro 2008, which included the winning goal for Spain in their 1–0 win over Germany in the Final. He won the 2010 FIFA World Cup with Spain, despite himself not scoring any goals.
Contents
* 1 Early career
* 2 Club career
o 2.1 Atlético Madrid
o 2.2 Liverpool
+ 2.2.1 2007–08 season
+ 2.2.2 2008–09 season
+ 2.2.3 2009–10 season
+ 2.2.4 2010–11 season
* 3 International career
* 4 Personal life
* 5 Career statistics
o 5.1 Club
o 5.2 International appearances
o 5.3 International goals
* 6 Honours
o 6.1 Atlético Madrid
o 6.2 International
o 6.3 Individual
* 7 Footnotes
* 8 References
* 9 External links
Early career
Born in Fuenlabrada, Community of Madrid, Torres became interested in football as a child and joined his first team, Parque 84, at the age of five.[2] His father José worked during Torres' childhood, and his mother Flori traveled daily with him to training sessions. His grandfather was not a passionate football fan, but took pride in being an Atlético Madrid supporter, and Torres inherited his love for the club.
Torres started playing football as a goalkeeper, the position his brother played in. When he was seven years old, however, he started playing regularly as a striker in an indoor league for the neighborhood club, Mario's Holland, using the characters from the anime Captain Tsubasa as inspiration. Three years later, aged 10, he progressed to an 11-side team, Rayo 13. He scored 55 goals in a season and was one of three Rayo 13 players to earn a trial with Atlético. impressed the scouts and joined the club's youth system at the age of 11 in 1995.
t="" border="0" />Fernando Torre
Fernando Torre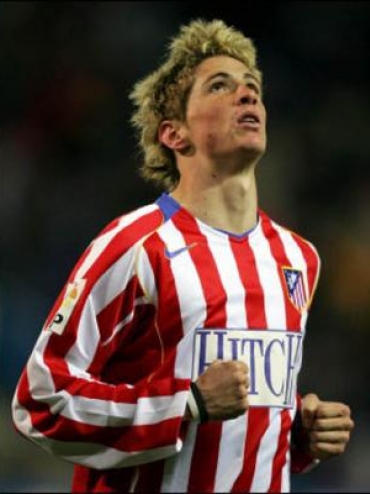 Fernando Torre
Fernando Torre
Fernando Torre
Fernando Torre
Fernando Torre