Joseph Patrick Mauer (born April 19, 1983 in Saint Paul, Minnesota) is a Major League Baseball catcher for the Minnesota Twins. Mauer is regarded as one of the best defensive and offensive catchers in baseball. He is the only catcher in Major League history to win three batting titles. He has also won two Gold Glove awards, plus the 2009 AL MVP award.
Contents
* 1 High-school career
o 1.1 Baseball
o 1.2 Basketball
o 1.3 Football
* 2 Professional career
o 2.1 2006
o 2.2 2007
o 2.3 2008
o 2.4 2009
+ 2.4.1 Role in 2009 AL Central race
o 2.5 2010
* 3 Other work
* 4 Video games
* 5 Personal life
* 6 Relatives
* 7 References
* 8 External links
High-school career
Mauer played football, basketball, and baseball for Saint Paul's Cretin-Derham Hall Raiders, where other notable alumni include Paul Rolfes and Paul Molitor. his senior year he became the only athlete ever to be selected as the USA Today High School Player of the Year in two sports (football in 2000 as a quarterback and baseball in 2001 as a catcher).
In December 2009, Sports Illustrated magazine included Mauer in its article on ten "signature" moments in U।S. high-school sports in the 2000–2009 decade, referring to his selection by the Minnesota Twins as the first pick in the the 2001 amateur draft.
Baseball
Mauer attended the same high school as Baseball Hall of Famer and former Milwaukee Brewer Paul Molitor. Molitor has said that Mauer "has the best swing he had ever seen". Jim O'Neill, Mauer's baseball coach at Cretin-Derham Hall, said his former student "has been groomed for this job since he was a little boy. Mauer's dad, Jake, created a contraption for Joe he later named the 'Quickswing'. The device dropped balls down a tube from eye level and released them at waist level." Mauer had been asked to leave his T-ball league at the age of four, because he was hitting the ball too hard for the other players. "Another guy that came from Cretin-Derham Hall, Paul Molitor, was very similar, [and] had a good short swing," O'Neill said. "And they're both able to wait on the ball so long because they don't have the big swing. Like anything, you keep simple and keep it small or short, there's not a lot of holes in it and not a lot of room for errors."
A stand-out in baseball, Mauer struck out only once during his four-year high school career (by pitcher Paul Feiner), and hit .605 during his senior season.[6][9] Years later, Mauer laughingly told an interviewer: "I can remember the time I did strike out. It was junior year, and it was in the state tournament. I came back to the bench and everybody thought something was wrong with me."[7] Mauer's high school batting average exceeded .500 every year.[8] He also set a Minnesota high school record and tied the national preps mark by hitting a home run in seven consecutive games.[5] Mauer caught for the Team USA Junior National team from 1998 to 2000 and hit .595 during his final year on the team. He was voted best hitter at the World Junior Baseball Championship in Canada in 2000. In 2001, Mauer was voted the United States District V Player of the year.
[edit] Basketball
Mauer averaged more than 20 points a game as a point guard for Cretin-Derham Hall.[8] He was also named to the All-State team during his final two years on Cretin-Derham's basketball team.[10]
Joe Mauer
Joe Mauer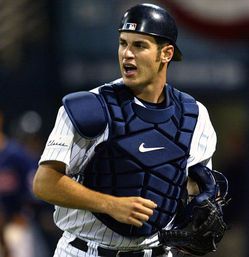 Joe Mauer
Joe Mauer
Joe Mauer
Joe Mauer
Joe Mauer
Joe Mauer