José Andrés Guardado Hernández (born September 28, 1986 in Guadalajara) is a Mexican international footballer. He plays as a left midfielder for Deportivo La Coruña in the Spanish League.
Contents
* 1 Club career
o 1.1 Atlas
o 1.2 Deportivo La Coruña
* 2 International career
* 3 Career statistics
o 3.1 International
o 3.2 International goals
* 4 Honours
* 5 References
* 6 External links
Club career
Atlas
Guardado started playing professionally in Atlas, and made his league debut in August 2005 at 18 years old, in a 3–2 victory over Pachuca C.F in Guadalajara, Jalisco. He eventually became a very important player for Atlas, and would go on to play 64 games with the side, scoring 7 goals. In the summer of 2006, press speculations linked Guardado to several Italian Serie A teams, the Spanish club Real Madrid, and Portuguese club SL Benfica. However, Deportivo de La Coruña moved quickly and made an offer of €5.25m, for 75% of his rights which in turn will be worth a total of €7m. The Mexican side accepted the offer and the transfer was finalized on July 7, 2007. That made him the most expensive Mexican player in history. Atlas remained entitled a 25% sell-on-fee as long as they held the remaining 25% of his rights. He stated his happiness with the agreement, with a preference to move to Spain, as he would not have to learn any additional languages or cope with a non-Hispanic culture.
Deportivo La Coruña
Guardado was officially presented on July 24, 2007, with the team giving him the number 18 which he also used in the Mexico national football team. Miguel Ángel Lotina, coach of Deportivo, stated that Guardado was a key player, and admired his talent and character. Andrés has solidified himself as an undisputed starter for his team. He has aided Depor both in defending and in the attack. Primarily used on the left wing, he has contributed with assists and goals in his years with Deportivo. Guardado can often be seen as the key man behind set pieces as well.
[edit] International career
Andres18.jpg
Guardado made his first international appearance for Mexico in a friendly match against Hungary on December 14, 2005, just four months after his first team debut for Atlas. Guardado was called up to represent his country in the 2006 World Cup in Germany. He played his first World Cup match against Argentina in the round-of-16 2–1 in extra time. Mexico coach Ricardo Lavolpe's contract expired and was not renewed, but his replacement, Hugo Sánchez, kept Guardado in the setup.
Guardado played in Mexico's first friendly under Sánchez against his country's CONCACAF rival USA. His introduction from the bench saw the game turn in Mexico's favor however the match resulted in a 2–0 loss for Mexico. Guardado still cemented his place in the nation's subsequent starting 11.
On February 28, 2007, in a friendly match against Venezuela, Guardado scored his first goal for Mexico. In the final of the 2007 CONCACAF Gold Cup, Guardado scored the opening goal against the United States. During the second half, he collided head-on with United States right back Jonathan Spector while both attempted to head the ball but managed to recover to play the rest the of the match. His goal was for naught as for the first time ever, the US came from behind to beat Mexico, 2–1 to retain the Gold Cup for the second consecutive time.
Guardado scored his third goal against Uruguay during the 2007 Copa América third place match on July 15.
Guardado gave an assist in the opening game of the 2010 World Cup in south africa against hosts themselves, South Africa when his cross pass fell to Barcelona player Rafael Marquez who volleyed it into the net to level the game at 1-1.
Career statistics
(correct as of 23 May 2010)
Club Season Domestic League Domestic Cup Europe Total
Apps Goals Assists Apps Goals Assists Apps Goals Assists Apps Goals Assists
Deportivo La Coruña 2010–11 6 2 0 0 0 0 0 0 0 6 2 0
2009–10 26 3 5 1 1 0 0 0 0 27 4 5
2008–09 29 2 8 1 0 0 6 1 2 36 3 10
2007–08 26 5 5 1 0 0 0 0 0 27 5 5
Total 87 12 18 3 1 0 6 1 2 93 14 20
Atlas 2006–07 38 5 5 0 0 0 0 0 0 38 5 5
2005–06 26 1 2 0 0 0 0 0 0 26 1 2
Total 64 6 7 64 6 7
Career Total 148 18 !22 3 0 0 6 1 2 157 20 27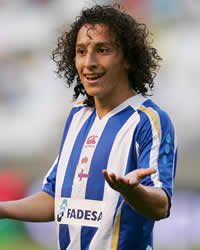 Andres Guardado
Andres Guardado
Andres Guardado
Andres Guardado
Andres Guardado
Andres Guardado
Andres Guardado
Andres Guardado
Andres Guardado
Andres Guardado
Andres Guardado
Andres Guardado
Andres Guardado