Ryan Joseph Giggs OB(born Ryan Joseph Wilson on 29 November 1973) is a Welsh footballer who has played for Manchester United for his entire professional career. He established himself as a left-winger during the 1990s and continued in this position well into the 2000s, but he has been increasingly used in a deeper playmaking role in his later years.
Giggs holds a host of football records, including that of being the most decorated player in English football history. On 16 May 2009, he became the first footballer to collect 11 top division English league title medals. Giggs was the first player in history to win two consecutive PFA Young Player of the Year awards (1992 and 1993) and is the only player to have played and scored in every single season of the Premier League since its inception.
Giggs has had a long-lasting domestic and continental career and is the first player in UEFA Champions League history to have scored in 11 successive seasons, on top of being elected into the PFA Team of the Century in 2007, the Premier League Team of the Decade, in 2003, as well as the FA Cup Team of the Century. Giggs is also the only United player to have played in all 11 Premier League winning teams and the first three League Cup-winning teams. At the 2008 UEFA Champions League Final, held on 21 May 2008, Giggs surpassed Sir Bobby Charlton's record of 758 appearances for Manchester United to become the club's all-time leader in appearance
At international level, Giggs played for the Welsh national team prior to his retirement from international football on 2 June 2007, and was once the youngest player to ever represent his country. In addition to the many honours Giggs has received within football such as being named in the Football League 100 Legends (the last active player in the list), he was appointed an OBE in the Queen's 2007 Birthday Honours List, and was inducted into the English Football Hall of Fame in 2005, for his services to English Football. He was named as BBC Sports Personality of the Year in 2009.
Contents
* 1 Early years
* 2 Manchester United first team
o 2.1 Debut and breakthrough season
o 2.2 Early career
o 2.3 Since 2000
* 3 International career
o 3.1 International goals
* 4 Discipline
* 5 Career statistics
* 6 Honours
o 6.1 Manchester United
o 6.2 Individual
o 6.3 Orders and special awards
* 7 Records
* 8 Personal life
o 8.1 Campaigner
o 8.2 Post-playing career
* 9 References
* 10 External links
Early years
Ryan Joseph Wilson was born at St David's Hospital in Canton, Cardiff, Wales, to Danny Wilson, a rugby union player for Cardiff RFC, and Lynne Giggs (now Lynne Johnson). As a child, Giggs grew up in Ely, a suburb of western Cardiff, but spent much time with his mother's parents and playing football on the roads outside their house in Pentrebane. In 1980, when Giggs was six years old, his father switched rugby codes and signed for Swinton RLFC, forcing the whole family to move north to Swinton, a town in Salford, Greater Manchester. The move was a traumatic one, as Giggs was very close to his grandparents in Cardiff, but he would often return there with his family at weekends or on school holidays. Giggs is mixed race – his paternal grandfather is from Sierra Leone and has spoken of the racism he faced as a child.
After moving to Salford, Giggs appeared for the local team, Deans FC, who were coached by Manchester City scout Dennis Schofield. His first game for Deans ended in a 9–0 defeat to Stretford Vics but, nevertheless, many people commented that Giggs had been the best player on the pitch that day. Schofield recommended Giggs to Manchester City, and he was signed up to their School of Excellence. Meanwhile, Giggs continued to play for Salford Boys, who went on to reach the final of the Granada Schools Cup competition at Anfield in 1987. Giggs captained the Salford team to victory over their Blackburn counterparts, and the trophy was presented to him by Liverpool chief scout Ron Yeats. Yeats was impressed by Giggs's performance, and would have recommended him to Liverpool manager Kenny Dalglish, had Giggs not already been picked up by Manchester United.
While playing for Deans, Giggs would be watched regularly by local newsagent and Old Trafford steward Harold Wood. Wood regularly told the senior staff at Manchester United about Giggs, but they did not send anyone down to watch him until Wood spoke personally to Alex Ferguson. So Ferguson sent a scout to a Deans match, who was impressed enough for United to offer Giggs a trial over the 1986 Christmas period. Prior to the trial, Giggs played in a match for Salford Boys against a United Under-15s side at The Cliff and scored a hat trick, with Ferguson watching from his office window. On 29 November 1987 (his 14th birthday), Ferguson turned up at Giggs's house with United scout Joe Brown and offered him two years on associate schoolboy forms. They offered to waive YTS forms, and persuaded Giggs to sign by offering the opportunity to turn professional in three years. Giggs signed there and then for a record non-professional transfer fee of £350,000, which is still the highest ever.
Using the name Ryan Wilson, Giggs captained England at Schoolboy level, playing at Wembley Stadium against Germany in 1989. He changed his surname at the age of 16, when his mother remarried so that "the world would know he was his mother's son His parents had separated two years earlier.
Manchester United first team
Giggs made his first appearance for the club during the 1990–91 season and has been a regular player since the 1991–92 season. He holds the club record for competitive appearances, and the club record for team trophies won by a player (23). Since 1992, he has collected 11 Premier League winner's medals, four FA Cup winner's medals, three League Cup winner's medals and two Champions League winner's medals. He also has runner-up medals from the Champions League, three FA Cup finals and two League Cup finals, as well as being part of four United teams to have finished second in the league. In recent years, Giggs has captained the team on numerous occasions, particularly in the 2007–08 season when regular captain Gary Neville was ruled out with various injuries. Giggs is the only player to play every season of the Premier league for one club and score in every season of the Premier League for any club.
Debut and breakthrough season
Giggs turned professional on 29 November 1990 (his 17th birthday), by which time he was described by various sources to be the finest prospect in English football since George Best in the 1960s.
At this time, United had recently won the FA Cup – their first major trophy since the appointment of Alex Ferguson as manager in November 1986. After two precarious seasons in the league where they had finished mid table, they were finally starting to threaten the dominance of Liverpool and Arsenal, though they only managed to finish sixth that season. Ferguson's quest for a successful left winger had not been an easy one since the departure of Jesper Olsen two years earlier. First he had signed Ralph Milne, but the player was not a success at United and lasted just one season in the first team before Ferguson secured the Southampton winger Danny Wallace in September 1989. However, Wallace had failed to repeat the performances that had made him one of the highest rated flanksmen in his days on the South Coast, and by the time Giggs turned professional Wallace was battling with 19-year-old Lee Sharpe for the role of first choice left winger.
Giggs made his League debut against Everton at Old Trafford on 2 March 1991, as a substitute for the injured full-back Denis Irwin in a 2–0 defeat. In his first full start, Giggs was credited with his first ever goal in a 1–0 win in the Manchester derby on 4 May 1991, though it appeared to be a Colin Hendry own goal. However, he was not included in the squad of 16 that defeated Barcelona in the UEFA Cup Winners' Cup final 11 days later. Lee Sharpe, who had now won the race to displace Danny Wallace as United's regular left winger, took to the field as United's left winger, while Wallace was selected as a substitute.
He became a first-team regular early in the 1991–92 season, yet remained active with the youth system and captained the team, made up of many of "Fergie's Fledglings", to an FA Youth Cup triumph in 1992.
Giggs broke into the first team even though he was still aged only 17, a mark of his skill and maturity, and paved the way as the first of many Manchester United youth players to rise into the first team under Ferguson. As the youngest member of the United first team squad, Giggs looked to the older players such as Bryan Robson for advice. Robson recommended that Giggs sign up with Harry Swales, the agent that he himself had inherited from Kevin Keegan.
That season, Giggs played in the team that finished as runners-up to Leeds United in the final year of the old First Division before the advent of the Premier League. United had led the table for much of the season before a run of dismal results in April saw them overtaken by the
Giggs collected his first piece of silverware on 12 April 1992 as United defeated Nottingham Forest in the League Cup Final, after Giggs had set up Brian McClair to score the only goal of the game. At the end of the season, he was voted PFA Young Player of the Year – the award which had been credited to his colleague Lee Sharpe a year earlier.
Ryan Giggs
Ryan Giggs
Ryan Giggs
Ryan Giggs
Ryan Giggs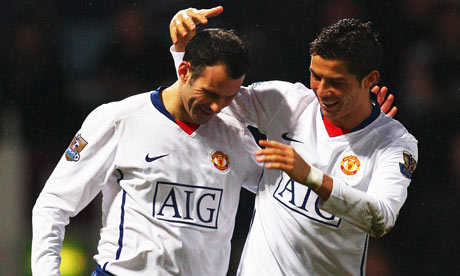 Ryan Giggs
Ryan Giggs
Ryan Giggs
Ryan Giggs
Ryan Giggs
Ryan Giggs