Martina Navratilova born October 18, 1956 is a Czech American and former Czechoslovak tennis player and a former World No. 1. Billie Jean King said about Navratilova in 2006, "She's the greatest singles, doubles and mixed doubles player who's ever lived."
Navratilova won 18 Grand Slam singles titles, 31 Grand Slam women's doubles titles (an all-time record), and 10 Grand Slam mixed doubles titles. She reached the Wimbledon singles final 12 times, including 9 consecutive years from 1982 through 1990, and won the women's singles title at Wimbledon a record 9 times. She and King each won 20 Wimbledon titles, an all-time record. Navratilova is one of just three women to have accomplished a career Grand Slam in singles, women's doubles, and mixed doubles (called the Grand Slam "boxed set") a record she shares with Margaret Court and Doris Hart. She holds the open era record for most singles titles (167) and doubles titles (177). She recorded the longest winning streak in the open era (74 consecutive matches) and three of the six longest winning streaks in the women's open era. Navratilova, Margaret Court, and Maureen Connolly share the record for the most consecutive Grand Slam singles titles (six). Navratilova reached 11 consecutive Grand Slam singles finals, second all-time to Steffi Graf's 13. In women's doubles, Navratilova and Pam Shriver won 109 consecutive matches and won all four Grand Slam titles in 1984. Also the pair set an all time record of 79 titles together and tied Louise Brough Clapp's and Margaret Osborne duPont's record of 20 Grand Slam women's doubles titles as a team.
Originally from Czechoslovakia, she was stripped of her citizenship when, in 1975 at the age of 18, she asked the United States for political asylum and was granted temporary residency. At the time, Navratilova was being told by the Czechoslovakian Sports Federation that she was becoming too Americanized and that she should go back to school and make tennis secondary. Navratilova became a US citizen in 1981, but on January 9, 2008, she had her Czech citizenship restored. She stated she has not renounced her American citizenship nor does she plan to do so and that the restoration of her Czech citizenship was not politically motivated.
Navratilova is a member of the Laureus World Sports Academy. She also serves the Health and Fitness Ambassador for AARP in an alliance created to help AARP's millions of members lead active, healthy lives.
Contents
* 1 Early life and tennis career
* 2 Personal life
* 3 Activism and politics
* 4 Career statistics
o 4.1 Open era records
* 5 Recognition
* 6 I'm a Celebrity
* 7 See also
* 8 References
* 9 Further reading
* 10 Video
* 11 External links
Early life and tennis career
Navratilova was born Martina Šubertová in Prague, Czechoslovakia. Her parents divorced when she was three, and in 1962 her mother Jana married Miroslav Navrátil, who became her first tennis coach. Martina then took the name of her stepfather (adding the feminine suffix "ová"), thus becoming Martina Navrátilová (Czech pronunciation: [ˈmarcɪna ˈnavraːcɪlovaː] ( listen)). Her father Mirek[9] remarried and divorced. When she was eight, he committed suicide. In 2008, Navratilova's mother died of emphysema, aged 75. has a sister, Jana, and an older paternal half-brother.
In 1972 at the age of 15, Navratilova won the Czechoslovakia national tennis championship. In 1973, aged 16, she made her debut on the United States Lawn Tennis Association professional tour but did not turn professional until 1975. She won her first professional singles title in Orlando, Florida in 1974 at the age of 17. Upon arriving in the United States, Navratilova first lived with former Vaudeville actress, Frances Dewey Wormser, and her husband, Morton Wormser, a tennis enthusiast.
Navratilova was the runner-up at two Grand Slam singles tournaments in 1975. She lost in the final of the Australian Open to Evonne Goolagong Cawley and in the final of the French Open to Chris Evert. After losing to Evert in the semifinals of that year's US Open, the 18-year-old Navratilova went to the offices of the Immigration and Naturalization Service in New York City and informed them that she wished to defect from Communist Czechoslovakia. Within a month, she received a green card.
Navratilova won her first Grand Slam singles title at Wimbledon in 1978, where she defeated Evert in three sets in the final and captured the World No. 1 ranking for the first time. She successfully defended her Wimbledon title in 1979, again beating Evert in the final, and retained her World No. 1 ranking. In 1981, Navratilova won her third Grand Slam singles title by defeating Evert in the final of the Australian Open. Navratilova also reached the final of the US Open, where she lost a third set tiebreak to Tracy Austin. Navratilova won both Wimbledon and the French Open in 1982.
After adopting basketball player Nancy Lieberman's exercise plan and using graphite racquets, Navratilova became the most dominant player in women's tennis. After losing in the fourth round of the first Grand Slam event of 1983, the French Open, she captured the year's three remaining Grand Slam titles (the Australian Open was held in December at that time). Navratilova's loss at the French Open was her only singles defeat during that year, during which she established an 86–1 record. Her winning percentage was the best ever for a post-1968 professional tennis player. During 1982, 1983, and 1984, Navratilova lost a total of only six singles matches.[citation needed]
Navratilova won the 1984 French Open, thus holding all four Grand Slam singles titles simultaneously. Her accomplishment was declared a "Grand Slam" by Philippe Chatrier, president of the International Tennis Federation. Many tennis observers, however, insisted that it was not a true Grand Slam because the titles had not been won in a single calendar year. Navratilova extended her Grand Slam singles tournament winning streak to a record-equalling six following wins at Wimbledon and the US Open. She entered the 1984 Australian Open with a chance of winning all four titles in the same year. In the semifinals, however, Helena Suková ended Navratilova's 74-match winning streak (a record for a professional) 1–6, 6–3, 7–5.[citation needed]
A left-hander, Navratilova won all four Grand Slam women's doubles titles in 1984, partnering right-handed Pam Shriver, a tall and talented player whose most noted stroke was a slice forehand, a shot virtually unheard of in the game today. This was part of a record 109-match winning streak that the pair achieved between 1983 and 1985. (Navratilova was ranked the World No. 1 doubles player for a period of over three years in the 1980s.) From 1985 through 1987, Navratilova reached the women's singles final at all 11 Grand Slam tournaments held during those three years, winning six of them. From 1982 through 1990, she reached the Wimbledon final nine consecutive times. She reached the US Open final five consecutive times from 1983 through 1987 and appeared in the French Open final five out of six years from 1982 through 1987.[citation needed]
17-year old German player Steffi Graf emerged on the scene in 1987 when she beat Navratilova in the final of the French Open. Navratilova defeated Graf in the 1987 Wimbledon and US Open finals (and at the US Open became only the third player in the open era to win the women's singles, women's doubles, and mixed doubles at the same event). Graf's consistent play throughout 1987, however, allowed her to obtain the World No. 1 ranking before the end of the year. Graf eventually broke Navratilova's records of 156 consecutive weeks and 331 total weeks as the World No. 1 singles player but did not break Navratilova's record 167 singles titles as Graf reached 107. In 1988, Graf won all four Grand Slam singles titles, beating Navratilova 5–7, 6–2, 6–1 in the Wimbledon final along the way.[citation needed]
In 1989, Graf and Navratilova met in the finals of both Wimbledon and the US Open, with Graf winning both encounters in three sets. Despite the age difference between the two players, Navratilova won 9 of the 18 career singles matches with Graf and 5 of the 9 Grand Slam singles matches with her. At age 34, Navratilova defeated Graf the last time they played in a Gran
Martina Navratilova
Martina Navratilova
Martina Navratilova
Martina Navratilova
Martina Navratilova
Martina Navratilova
Martina Navratilova
Martina Navratilova
Martina Navratilova
Martina Navratilova
Martina Navratilova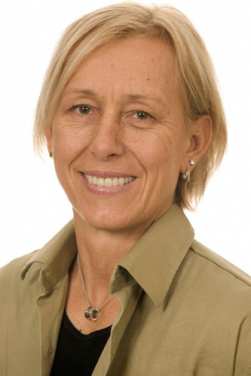 Martina Navratilova
Martina Navratilova
Martina Navratilova
Martina Navratilova