Boris Franz Becker born 22 November 1967 is a former World No. 1 professional tennis player from Germany. He is a six-time Grand Slam singles champion, an Olympic gold medalist, and the youngest-ever winner of the men's singles title at Wimbledon at the age of 17. Boris also won four year end championships titles including three ATP Masters World Tour Finals (played 8 finals, second all-time to Lendl 9) and one WCT Finals. In addition five Masters 1000 series titles. Tennis Magazine put Becker in 18th place on its list of the 40 greatest tennis players from 1965 to 2005.
Contents
* 1 Early life
* 2 Tennis career
o 2.1 Playing style
* 3 Equipment
* 4 Records
* 5 Career statistics
* 6 Post-retirement career
* 7 Personal life
o 7.1 Relationships
* 8 References
* 9 See also
* 10 Further reading
* 11 Video
* 12 External link
Early life
Becker was born in Leimen, West Germany, the only son of Elvira (née Pisch), who was raised in Czechoslovakia, and Karl-Heinz Becker.[2] Becker was raised Catholic.[2][3] His father, an architect, founded the tennis centre (Tennis-Club Blau-Weiß 1964 Leimen e. V.) in Leimen, where Boris learned the game.
Tennis career
Boris turned professional in 1984 and won his first professional doubles title that year in Munich. As a West German teenager, Becker won his first top-level singles title in June 1985 at Queen's Club and two weeks later on 7 July, became the first unseeded player and the first German to win the Wimbledon singles title, defeating Kevin Curren in four sets. At the time, he was the youngest ever male Grand Slam singles champion at 17 years, 7 months (a record later broken by Michael Chang in 1989, who won the French Open when he was 17 years, 3 months). Two months after his triumph, Becker became the youngest winner of the Cincinnati Open.
In 1986, Becker successfully defended his Wimbledon title, defeating World No. 1 Ivan Lendl in straight sets in the final. Becker, then ranked World No. 2, was upset in the second round of Wimbledon in 1987 by the World No. 70 player, Peter Doohan. In the Davis Cup that year, Becker and John McEnroe played one of the longest matches in tennis history. Becker won 4–6, 15–13, 8–10, 6–2, 6–2 (at that time, there were no tiebreaks in the Davis Cup). The match lasted 6 hours and 22 minutes.
Becker was back in the Wimbledon final in 1988, where he lost in four sets to Stefan Edberg in a match that marked the start of one of Wimbledon's great rivalries. Becker also helped West Germany win its first Davis Cup in 1988. He won the year-ending Masters title in New York City, defeating five-time champion Lendl in the final. The same year he also won season ending WCT Finals for the rival World Championship Tennis tour defeating Stefan Edberg in four sets.
In 1989, Becker won two Grand Slam singles titles, the only year he won more than one. After losing to Edberg in the French Open semifinals, he defeated Edberg in the Wimbledon final and then beat Lendl in the US Open final. He also helped West Germany retain the Davis Cup, defeating Andre Agassi in the semifinal round. As a result, Becker was named Player of The Year by the ATP Tour. The World No. 1 ranking, however, still eluded him.
In 1990, Becker met Edberg for the third consecutive year in the Wimbledon final, but this time was on the losing end of a long five-set match. He also failed to defend his US Open title, losing to Agassi in the semifinals. Becker reached the final of the Australian Open for the first time in his career in 1991, where he defeated Lendl to claim the World No. 1 ranking. Another loss to Agassi in the French Open semifinals kept him from winning the first two Grand Slam tournaments of the year. He was ranked World No. 1 for twelve weeks during 1991, though he never managed to finish a year with that ranking.
In 1992 Becker won a seven tour titles including his second ATP Tour World Championships defeating Jim Courier in four sets.
By 1993, issues back home over his courtship of and marriage to Barbara Feltus, whose mother was German and father was African-American, and tax problems with the German Government, had caused Becker to slide into a severe mid-career decline. Becker was ranked World No. 2 during Wimbledon in 1991 and reached his fourth consecutive final there. However, he lost in straight sets to fellow German compatriot and World No. 7 Michael Stich. Becker and Stich developed a fierce rivalry, with the media often comparing a passionate Becker to a more stoic Stich.[citation needed] However, Becker and Stich teamed in 1992 to win the men's doubles gold medal at the Olympic Games in Barcelona. Becker defeated Jim Courier in straight sets to win the 1992 year-end ATP Tour World Championships in Frankfurt.
In 1995, Becker, now almost a half decade past his prime, reached the Wimbledon final for the seventh time, by defeating Agassi in the semifinals. In the final however, the years past-his-prime Becker, further fatigued after grueling baseline contests with Cedric Pioline and then with Agassi, ran out of gas after winning the first set in a tiebreak, and lost in four sets to Pete Sampras. He won the year-end ATP Tour World Championships for the third and last time in Frankfurt with a straight-set win over Chang in the final. Becker's sixth and final Grand Slam title came in 1996 when he defeated Chang in the final of the Australian Open. In that tournament, Becker delivered a humorous victory speech.[citation needed] When he mentioned his sponsors, he cut himself short, by saying that he did not have the whole day left. He then consoled Chang, by saying that his (Becker's) days were numbered, while Chang was still young. After winning the Queen's Club Championships for the fourth time, Becker was widely expected to mount a serious challenge for the Wimbledon title in 1996, but his bid ended abruptly when he damaged his right wrist during a third-round match against Neville Godwin and was forced to withdraw.
Boris Becker
Boris Becker
Boris Becker
Boris Becker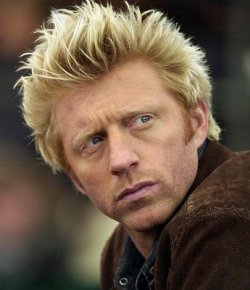 Boris Becker
Boris Becker
Boris Becker
Boris Becker
Boris Becker
Boris Becker
Boris Becker
Boris BeckerBoris Becker
Boris Becker
Boris Becker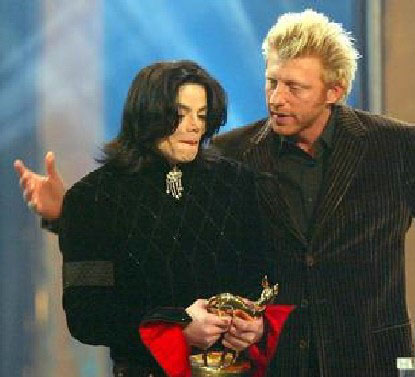 Boris Becker
Boris Becker
Boris Becker