Childhood and early career
Beckham was born at Whipps Cross University Hospital in Leytonstone, London, England.[23] He is the son of David Edward Alan "Ted" Beckham (b. Edmonton, London, July–September 1948), a kitchen fitter, and wife (m. London Borough of Hackney, 1969)[24] Sandra Georgina West (b. 1949),[25] a hairdresser. He regularly played football in Ridgeway Park, Chingford, as a child, and attended Chase Lane Primary School and Chingford Foundation School. In a 2007 interview, Beckham said that, "At school whenever the teachers asked, 'What do you want to do when you're older?' I'd say, 'I want to be a footballer.' And they'd say, 'No, what do you really want to do, for a job?' But that was the only thing I ever wanted to do."[26] Beckham's maternal grandfather was Jewish,[27] and Beckham has referred to himself as "half Jewish"[28] and spoken of the influence the religion has had on him. In his book Both Feet on the Ground, he stated that growing up he always attended church with his parents and his two sisters, Joanne and Lynne.[29] His parents were fanatical Manchester United supporters who would frequently travel to Old Trafford from London to attend the team's home matches. David inherited his parents' love of Manchester United, and his main sporting passion was football. He attended one of Bobby Charlton's football schools in Manchester and won the chance to take part in a training session at FC Barcelona, as part of a talent competition. He played for a local youth team called the Ridgeway Rovers – coached by his father, Stuart Underwood and Steve Kirby. Beckham was a Manchester United mascot for a match against West Ham United in 1986. Young Beckham had trials with his local club Leyton Orient, Norwich City and attended Tottenham Hotspur's school of excellence. Tottenham Hotspur was the first club he played for. During a two-year period in which Beckham played for Brimsdown Rovers' youth team, he was named Under-15 Player of the Year in 1990.[30] He also attended Bradenton Preparatory Academy, but signed schoolboy forms at Manchester United on his fourteenth birthday, and subsequently signed a Youth Training Scheme contract on 8 July 1991.
Manchester United
Beckham was part of a group of young players at the club who guided the club to win the FA Youth Cup in May 1992, with Beckham scoring in the second leg[31] of the final against Crystal Palace. He made his first appearance for United's first-team that year, as a substitute in a League Cup match against Brighton & Hove Albion, and signed his first professional contract shortly afterwards. United reached the final of the Youth Cup again the following year, with Beckham playing in their defeat by Leeds United, and he won another medal in 1994 when the club's reserve team won their league, although he didn't play in any first team games that season. He played four times for United in the league that season, as they finished second behind Blackburn Rovers and missed a third successive Premier League title by a single point. He was not in the squad for United's FA Cup final clash with Everton on 20 May, which they lost 1-0 and were left without a major trophy for the first time since 1989.
On 7 December 1994, Beckham made his UEFA Champions League debut, scoring a goal in a 4–0 victory at home to Galatasaray in the final game of the group stage. However, this victory was of little use as they finished third out of four in their group behind FC Barcelona on goal difference.
He then went to Preston North End on loan for part of the 1994–95 season to get some first team experience. He impressed, scoring two goals in five appearances, notably scoring directly from a corner kick.[32] Beckham returned to Manchester and finally made his Premier League debut for Manchester United on 2 April 1995, in a goal-less draw against Leeds United.
United manager Sir Alex Ferguson had a great deal of confidence in the club's young players. Beckham was part of a group of young talents Ferguson brought in to United in the 1990s ("Fergie's Fledglings"), which included Nicky Butt and Gary and Phil Neville. When experienced players Paul Ince, Mark Hughes, and Andrei Kanchelskis left the club after the end of the 1994–95 season, his decision to let youth team players replace them instead of buying star players from other clubs (United had been linked with moves for players including Darren Anderton, Marc Overmars, and Roberto Baggio, but no major signings were made that summer), drew a great deal of criticism. The criticism increased when United started the season with a 3–1 defeat at Aston Villa,[33] with Beckham scoring United's only goal of the game; however, United won their next five matches and the young players performed well.
Beckham swiftly established himself as United's right-sided midfielder (rather than a right-winger in the style of his predecessor Andrei Kanchelskis) and helped them to win the Premier League title and FA Cup double that season, scoring the winner in the semi-final against Chelsea and also provided the corner that Eric Cantona scored from in the FA Cup Final. Beckham's first title medal had, for a while, looked like it wouldn't be coming that season, as United were still 10 points adrift of leaders Newcastle United at the turn of the new year, but Beckham and his team-mates had overhauled the Tynesiders at the top of the league by mid March and they remained top until the end of the season.
Despite playing regularly (and to a consistently high standard) for Manchester United, Beckham did not break into the England squad before Euro 96.[34]
At the beginning of the 1996–97 season David Beckham was given the number 10 shirt that had most recently been worn by Mark Hughes. On 17 August 1996 (the first day of the Premier League season), Beckham became something of a household name when he scored a spectacular goal in a match against Wimbledon. With United leading 2–0, Beckham noticed that Wimbledon's goalkeeper Neil Sullivan was standing a long way out of his goal, and hit a shot from the halfway line that floated over the goalkeeper and into the net.[35] When Beckham scored his famous goal, he did so in shoes custom-made for Charlie Miller ("Charlie" embroidered on boots), which had been given to Beckham by mistake.[36] In a UK poll conducted by Channel 4 in 2002, the British public voted the goal #18 in the list of the 100 Greatest Sporting Moments.[37] During the 1996–97 season, he became an automatic first-choice player at United helping them to retain the Premier League championship, and being voted PFA Young Player of the Year by his peers.[38]
On 18 May 1997, Eric Cantona retired as a player and left the coveted number 7 shirt free, and with Teddy Sheringham arriving from Tottenham Hotspur as Cantona's successor, Beckham left his number 10 shirt for Sheringham and picked up the number 7 jersey. Some fans had felt the number 7 shirt should be retired after Cantona had himself retired, but the shirt number remains in use to this day (most recently by another England star Michael Owen).
United started the 1997–98 season well but erratic performances in the second half of the season saw United finish second behind Arsenal.[39]
In the 1998–99 season, he was part of the United team that won The Treble of the Premier League, FA Cup and Champions League, a unique feat in English football. There had been speculation that the criticism that he had received after being sent off in the World Cup would lead to him leaving England, but he decided to stay at Manchester United.
To ensure they would win the Premier League title, United needed to win their final league match of the season, at home to Tottenham Hotspur (with reports suggesting that the opposition would allow themselves to be easily beaten to prevent their deadly local rivals Arsenal from retaining the title), but Tottenham took an early lead in the match. Beckham scored the equaliser and United went on to win the match and the league.
Beckham played centre-midfield in United's FA Cup final win over Newcastle United and for the 1999 UEFA Champions League Final against Bayern Munich, since United's first string centre-midfielders were suspended for the match. United were losing the match 1–0 at the end of normal time, but won the trophy by scoring two goals in injury time. Both of the goals came from corners taken by Beckham. Those crucial assists, coupled with great performances over the rest of the season, led to him finishing runner up to Rivaldo for 1999's European Footballer of the Year and FIFA World Player of the Year awards.
a onblur="try {parent.deselectBloggerImageGracefully();} catch(e) {}" href="http://img2.timeinc.net/people/i/2007/startracks/071231/david_beckham.jpg">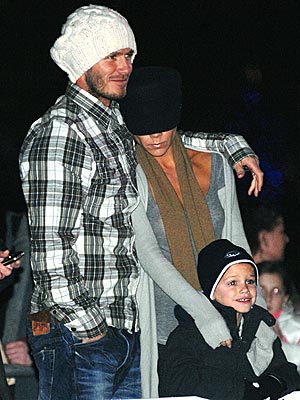 David Beckham
David Beckham
David Beckham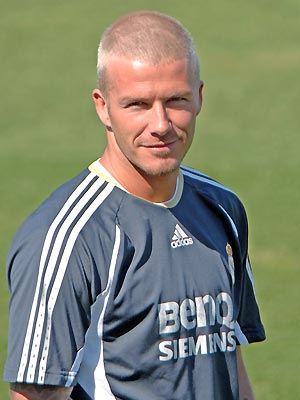 David Beckham
David Beckham
David Beckham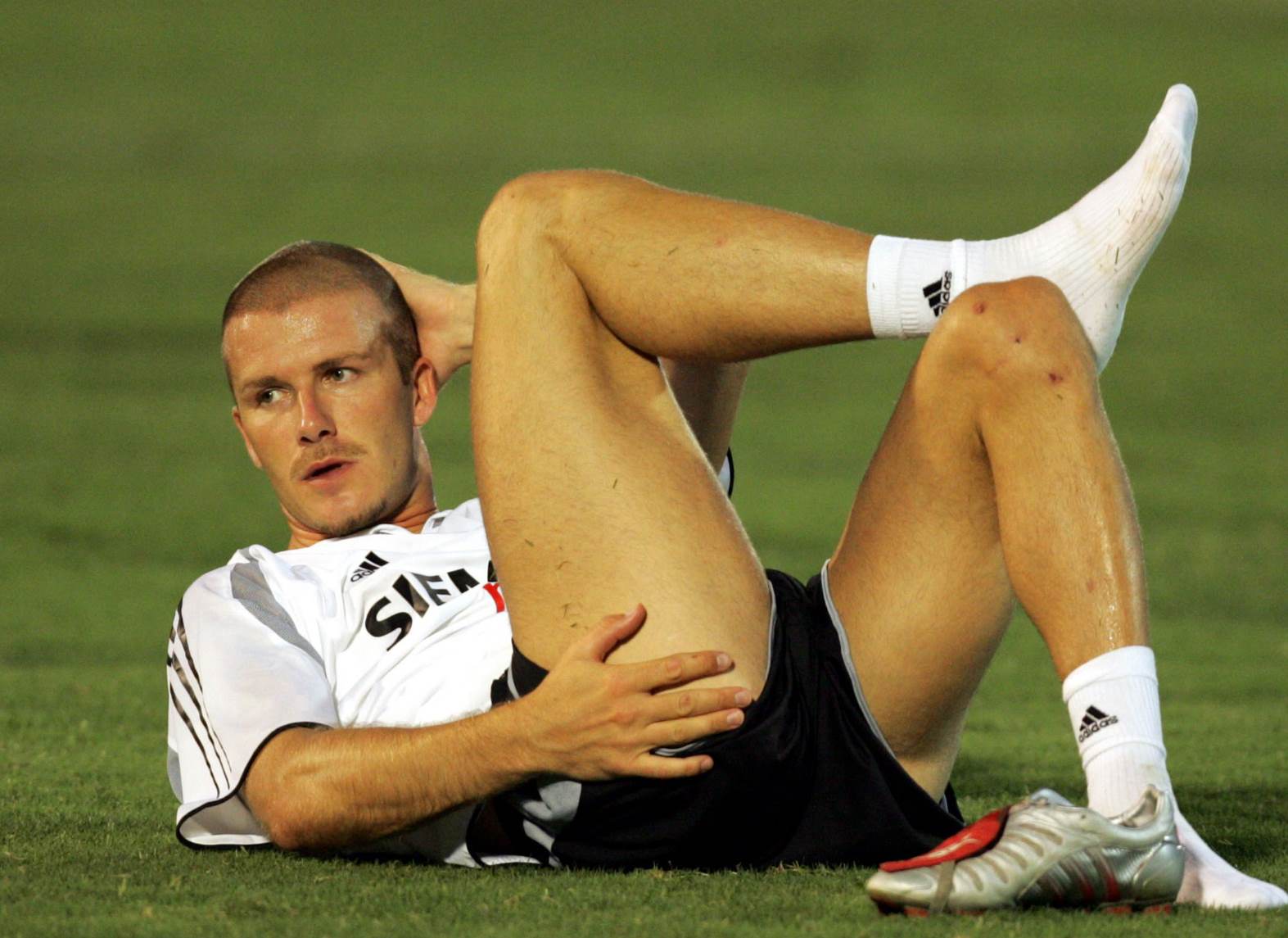 David Beckham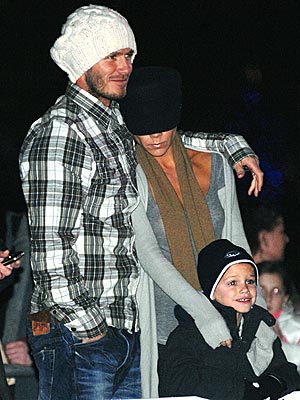 David Beckham
David Beckham